---
---
Amateur Radio Station WA2FNQ
---
---
Almost 10 Years Later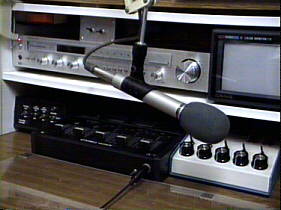 July 1999
Pictues with detailed descriptions.
---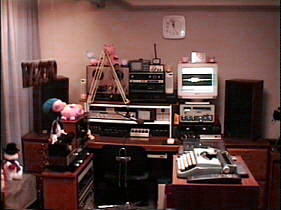 This is the studio in the summer of 1999, almost 10 years later. While all of the original equipment is still here much has been added to the design. Audio editing is now done by computer instead of tape. Final assembly of video product is also now computer assisted. A Crown D-75A and 3 rear channel speakers have been added to the monitor system. The audio mixing console is still the original. A Radio Shack 5 channel stereo mixer was used as the foundation. It was modified and expanded out to 10 channels by the addition of a submixer panel. The transmitters in the next room are controled by a switch box to the rigth of the audio console.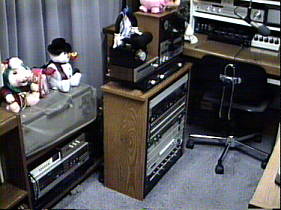 The picture on the left shows the equipment rack containing the studios main audio/video equipment, switching and patching. Most of the audio processing is done by a pair of dbx 163X compressor/limiters. A very modified Shure Level-Loc is used for additional audio processing where needed. Audio for the stations FM transmitters comes from an Altec 1589B mixer/amplifier. A dbx NX-40 is used for audio tape noise reduction. Audio follow video switching is done with a 12X push-button panel. The picture on the right is the original computer work station area. An original Compaq portable is used for working packet and RTTY with an old MFJ 1278 multi-mode data controller. An ICOM IC-745 has been added for SSB/FM/CW HF operation. It drives an SB-200 linear in the transmitter room. To the right is a new work station area. The Compaq laptop is used for general work as well as APRS and other packet operation. The audio mixer can provide another 6 channels of stereo inputs in the studio if needed. This was the main mixer in the old studio. The PPM panel is used to monitor the additional audio channels. A Leitch FR-662 frame houses video distribution amplifiers used to adjust levels and equalization where needed.
---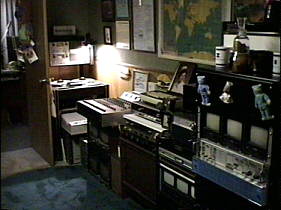 There has been a lot of "stuff" added to studio B over the years. While not totally operational as a system, most of the equipment here does function. Studio B has been used to do audio/video editing while the main studio was tied up with other work. Equipment may patched to the main studio via tie lines for use there.
---
More Additions - December 1999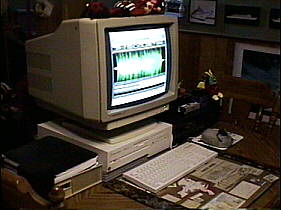 This is the computer workstation in studio B. It is used for editing small audio files, working with new software or just plain, boaring word processing.

This workstation is used to do digital editing of large audio files, processing of picture files and non-linear video editing. Audio files are generated here or brought in from studio A. After editing is completed, the files can be made in to an audio CD. This is also where the pictures and HTML for this Web site are done.
---