---
---
Packet on the Road
---
---
A portable packet station can be a useful tool for emergency work or just sending personal messages. While on vacation in the U.S. Virgin Islands, I was able to send packet messages back home using the local BBS. I also was able to connect back in to the NY area through a HF gateway. While I was on business in Las Vegas, I was in one spot long enough that I was able to both send receive messages back on the local BBS.
My mobile is also equipped for packet. I use it to work my own BBS while around town or while traveling, it's fun to see what kind of packet activity you can find.
---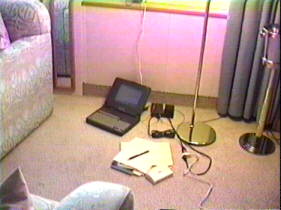 This portable packet set up was used to send messages back home from San Juan. A BayPac BP-1 was used with a Compaq 386-25 laptop running BayCom software. The transceiver was an ICOM IC2-AT with an ANLI AL800 antenna.
---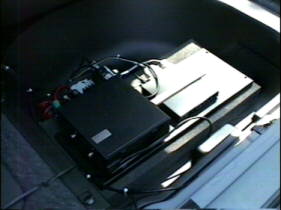 This is the mobile installation in the back of my Honda CRV. A KPC-3 TNC is mounted to the right of the ICOM 706. RS-232 runs up under the driver's seat. I normally use a HP 200 LX palmtop but a GPS and computer can be plugged in for APRS operation.
---